10 jun 2019
Korean Delegation visited Svobodny Sokol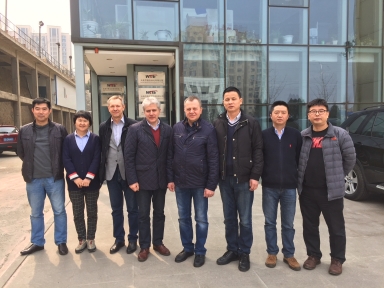 On June 4-5, a delegation from KCIP (KOREA CAST IRON PIPE IND.CO., LTD) from South Korea visited Svobodny Sokol
This is the first visit of
colleagues from Korea
to Russian company. KCIP has existed since 1953 and produces ductile iron pipes, valves and fittings for water supply. According to the company information the production volume is about 90 000 tons of high-strength cast iron pipes per year, which are supplied exclusively to the domestic market. Interesting to say that in South Korea where the territory is 99,720 km² (109th place in the world), there are four factories producing pipes from high-strength ductile iron and their share in the country's market reaches 60%. For comparison in the largest country in the world - Russia with a territory of 17,125,191 km² there is only one company working - Lipetsk Pipe Company "Svobodny Sokol", which produces ductile iron pipes.
This is not the first meeting of metalurgical colleagues from pipу production sphere. A year ago delegation
from Lipetsk
arrived for a visit to South Korea. At that time the delegation of the Lipetsk Pipe Company included the managing director Anton Babukidze, the director for new technologies Alexander Minchenkov and the head of the pipe-casting department Vladimir Vergunov. Then the leaders of "Svobodny Sokol" evaluated the technologies used, the quality of the pipes produced and the organization of the production process at the enterprise. In addition, an agreement was reached on the exchange of experience with Korean colleagues.
And this exchange took place in early June. On June 4, the Korean delegation led by the director of the company arrived in Lipetsk to visit the Svobodny sokol.
The Korean delegation was able to evaluate russian company: they inspected the pipe-casting production, evaluated the capabilities of the laboratory, saw how the products were made at the Lipetsk plant. On the second day, an exchange of views took place on the possibilities of Lipetsk and Korean production and negotiations were held on possible cooperation.
According to the representatives of the Korean delegation, this is a very useful and positive trip, which they were very pleased with. The parties were able to agree on regular meetings for the exchange of experience. There are also agreements on possible cooperation in international projects.
Поделиться:
↑ наверх