22 may 2019
Bureau Veritas Certification Rus carried out an audit to approve Managment system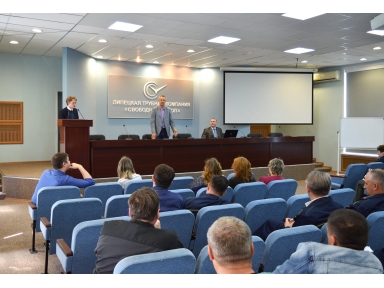 From May 13 to 17, our company had a team of leading auditors from Bureau Veritas Certification Rus, represented by the team leader Vladimir Melnichenko and Timofey Korotky and Natalia Kireyeva. During the visit to the plant, a recertification audit was carried out. The audit was to check the Integrated Management System of the company for compliance with the requirements of ISO 9001: 2015, ISO 14001: 2015 and OHSAS 18001: 2007 standards .

The recertification audit is carried out every three years from the date of issuance of the certificate of conformity of the management system. This event is necessary to confirm that the company meets all the requirements to extend the certificate of conformity to ISO 9001, ISO 14001 and OHSAS 18001 for another three years.

In the course of the audit, the work of the management system was reviewed throughout the entire preceding 3-year period, i.e. summed up the work of Lipetsk pipe company "Svobodny Sokol" for the entire period. Despite a number of inconsistencies (9 comments) in various structural divisions, some of which were eliminated during the period of stay of the auditors, the certification audit was successfully completed. Following the audit, new certificates will be issued.

It is necessary to note the flawless and professional work of a number of subdivisions, including the Railway Center, the Directorate for Quality and other departments which are audited annually without any comments and inconsistencies. Nevertheless, there are areas for improvement, for example, in matters of culture and aesthetics of production.

Next year, a supervisory audit is expected with the transition to a new version of ISO 45001 instead of OHSAS 18001.

Confirmation of compliance of the Company's Management System with the requirements of ISO and OHSAS standards is a guarantee of the quality of the products manufactured and the compliance of the production activities with the most advanced trends. Svobodny Sokol confirmed the status of a successful company whose products are consistently in demand in the domestic and foreign markets.
Поделиться:
↑ наверх